Contest for Investigative Journalists
Think tank World Experience for Georgia (WEG) is pleased to announce a contest for investigative journalists in Georgia, Moldova, and Ukraine under the project "Investigative Journalism for Energy Security" financed by the European Union under the Black Sea Trust for Regional Cooperation. journalists working on/interested in Energy Security Issues are invited to submit articles, radio, or TV broadcasts (hereinafter referred to contest product) on energy sector-related issues with the emphasis on the breakaway regions.
The contest intends to encourage energy sector oversight among Journalists and raise awareness on critical energy policy problems.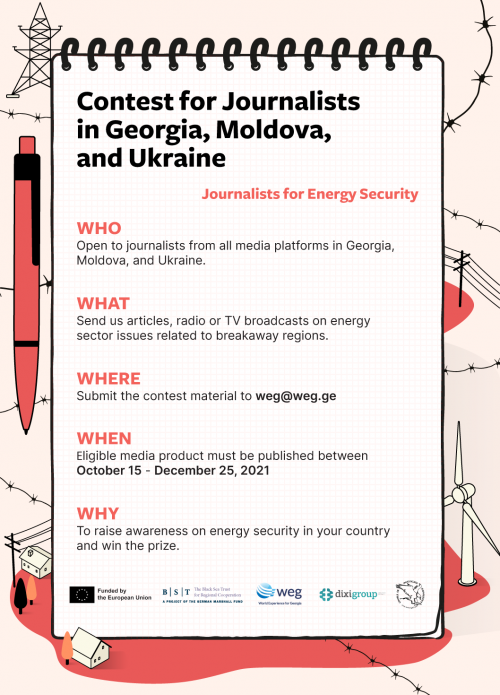 Eligibility
The contest is open to journalists from all platforms in Georgia, Moldova, and Ukraine including broadcast, online, and print media
Journalists should have at least three articles/media products published on any topic
Team entries will be accepted
Members of the team having applied as team members will not be eligible for applying individually.
Requirements
The interested applicants should take note of the following minimum requirements:
Media product must be related to energy issues in breakaway regions and their impact on national energy security.
The contest product must be published/broadcasted in a reputable media outlet
The contest product must be prepared in Georgian or English language.
Participants an encouraged to attend an online training to be conducted by WEG or listen to its video recording.
WEG and its partner organizations will provide basic consulting assistance
Training
6 hours of online training will be conducted in October by WEG.
Training participants will explore:
Energy security issues related to the breakaway regions
Energy data sources and tips for its analysis and interpretation
other relevant topics
Prize
The award prize is Gross EUR 1000 for a single media product (joint or individual). 3 winners will be selected in each country.
Note: The Jury is at liberty to not award 3 candidates in the case of too few submissions
Evaluation Criteria
Applications will be evaluated by WEG and its partner organizations based on the set criteria as described in the below table.
Criteria
Maximum points

Balanced and Unbiased Reporting

Facts, Statistics, and data should be supported by reliable sources.

Quotes used must be from several sources. All sources should be real and credible

Different sides of an argument should be represented

The reporting should be conflict -sensitive

40

Depth of reporting and analysis

Article (tv, radio product) should explore the social, economic, political, and energy security implications of the chosen topic, and show the links between energy-related problems in breakaway regions and national security.

40

Technical Quality/style

In case of video:

Video must be technically and artistically of good quality. This includes composition, lighting, color, sharpness, and subject.

The video should be a fair and truthful representation of reality and the subject(s) and/or scene(s) have not been manipulated or altered.

In the case of the article:

Published articles must include 1-3 images (photographs, illustrations, diagrams, etc.). Sources for all images must be given. the article should be written in easily understandable language.

20

Dissemination

The contest product should have National wide dissemination

10
Maximum total scoring:
100
Submission
Interested Journalists should submit the filled-in application form.
Contest participants should submit the contest material (link to published product), link to previously published articles (at least three), and contact information to the following email: weg@weg.ge
All entries must be submitted until 17:00, 25 December 2021
PUBLICATION PERIOD
Entries must have been originally published/ broadcast/ posted between October 15-December 25, 2021.
The Award ceremony will be conducted by January 15.
For any additional information, please contact: n.shatirishvili@weg.ge, t.kvaratskhelia@weg.ge