Energy Sector Regulation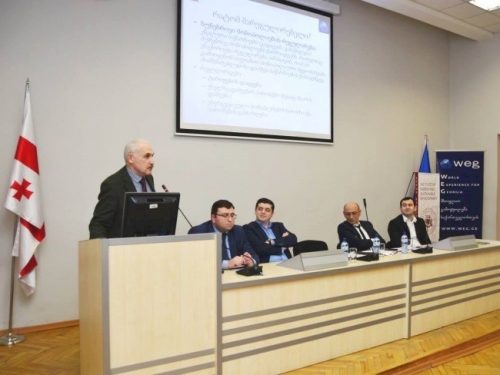 On January 16, 2015, next seminar from energy policy and sustainability seminar series – Energy Sector Regulation- organized by WEG and IESD was held at Ilia State University.
On the seminar, representatives of Georgian National Energy and Water Supply Regulatory Commission (GNERC) Nugzar Beridze, Ivane pirveli, Giorgi Pangani and Givi Saanikidze accordingly made presentation on the following topics: Licensing in Energy Sector, Gas Sector Regulation, Terms of Energy Service and Quality Indicators and Basic Principles of Tariff Regulation.
At the begging of the seminar, WEG director, Murman Margvelashvili reviewed the main principals of energy sector regulation and the functions of regulatory body – GNERC, more specifically he spoke about:
Objectives of the regulator – ensuring the effective operation of the sector.
Balancing the interests of consumers and energy enterprises.
Providing long term development.
Functions of the regulator – regulation of natural monopolies, energy market regulation, licensing and quality assurance, monitoring of the sector activities.
Market regulation.
In his presentation, Nugzar Berize spoke about electricity sector Legislative basis, energy markets, licensing and control of the licensing process. Ivane Pirveli described Gas Sector regulation in Georgia, specifics of natural gas consumption and licensing. Givi Sanikidze summed up the basic principles of tariff and tariff calculation methodology and Giorgi Pangani focused on service quality and consumers rights. He also spoke about reforms maid in this field from GNERC and future steps.
The seminar was highly interactive. Representatives from SCO organizations, parliament, students and commercial sector had an opportunity to ask questions and get qualified answers.