Facilitating Georgian Energy Reforms in Line with Energy Community Commitments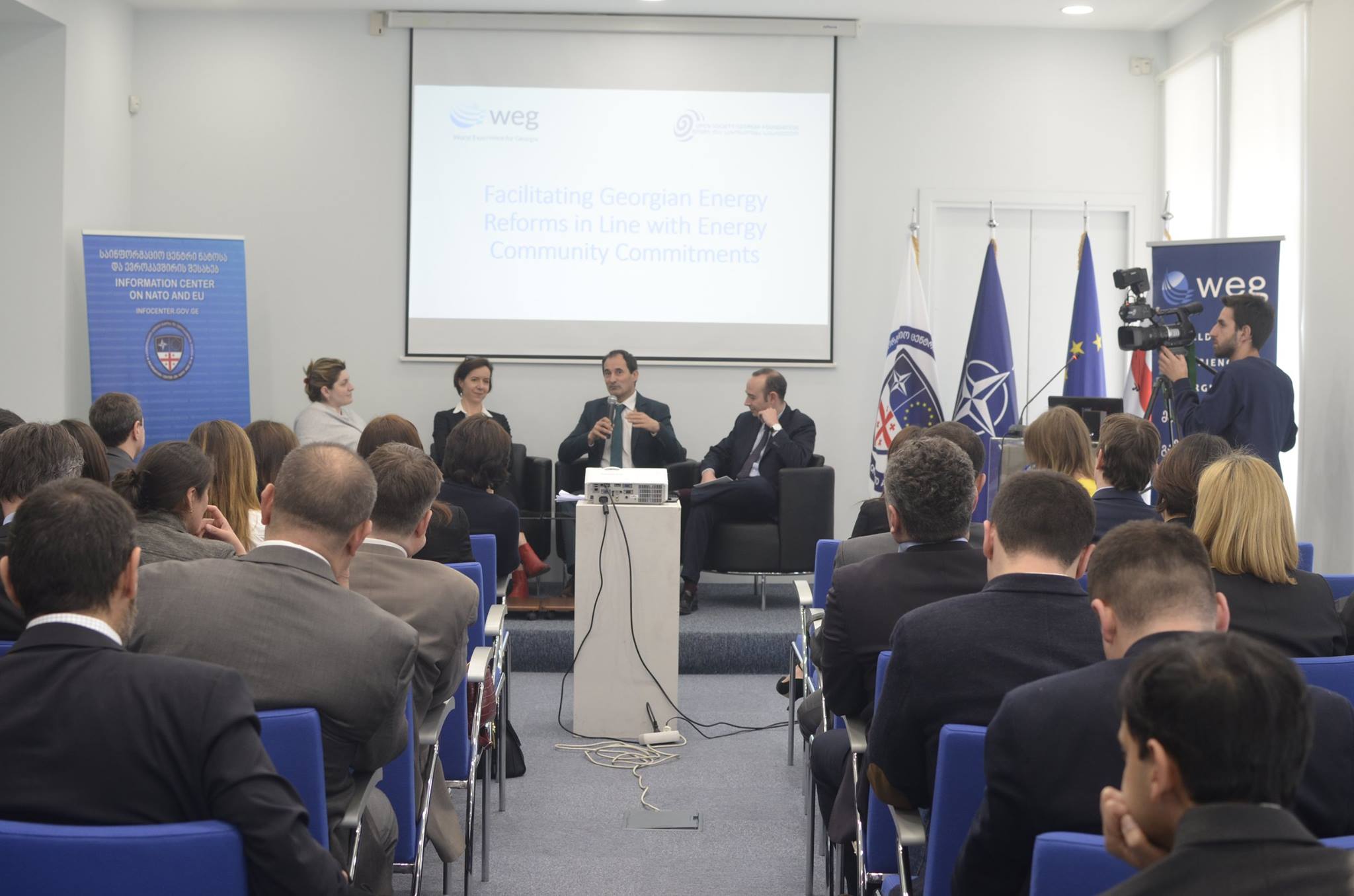 On February 27, 2017 World Experience for Georgia hosted a half day workshop - Facilitating Georgian Energy Reforms in Line with Energy Community Commitments – in NATO–EU I information Center Tbilisi, Georgia.
The main goal of the event, attended by ministries, energy community representatives, GNERC, CSOs, international financial institutes, experts and donor organizations, was to review the status of Georgia's preparedness for reforms under Energy Community membership and to identify the necessary steps to streamline the implementation of the EU energy acquis as well as coordinate the stakeholders around this task.
WEG director Murman Margvelashvili opened the conference, opening remarks were also presented by Mariam Valishvili, Deputy Minister of Energy, Irma Kavtaradze, Deputy Minister of Economy, Archil Karaulashvili, The Deputy State Minister of Government Administration in European and Euro-Atlantic Integration of Georgia. DG Energy, Federico Tarantini and Energy Community Secretariat director, Janes Kopach spoke respectively about EU- Georgia cooperation priorities in Energy and Experience of reforms under EnC- lessons learned.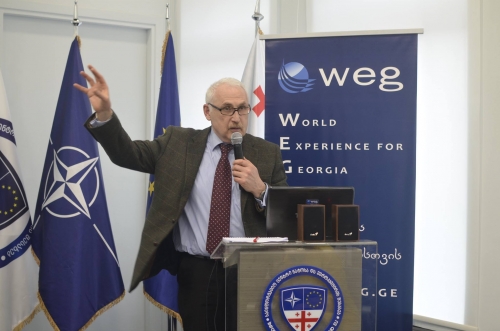 WEG expert Tamar Tsurtsumia spoke about Georgia's European Energy Commitments, she reviewed directives and regulations Georgia has to implement under Energy Community treaty, Explained timeframes and main obstacles and highlighted two directives regarding organization of Electricity and Natural Gas Internal Markets. Main challenges in this regard is unbundling of competitive and regulated components, generation-supply and Transmition-Distribution. This issue requires comprehensive analysis, market design and development of primary and secondary legislation. Ms. Tsurtsumia spoke about security of supply, creating oil stock mechanisms, Renewable energy development and Energy promotion of Efficiency as well.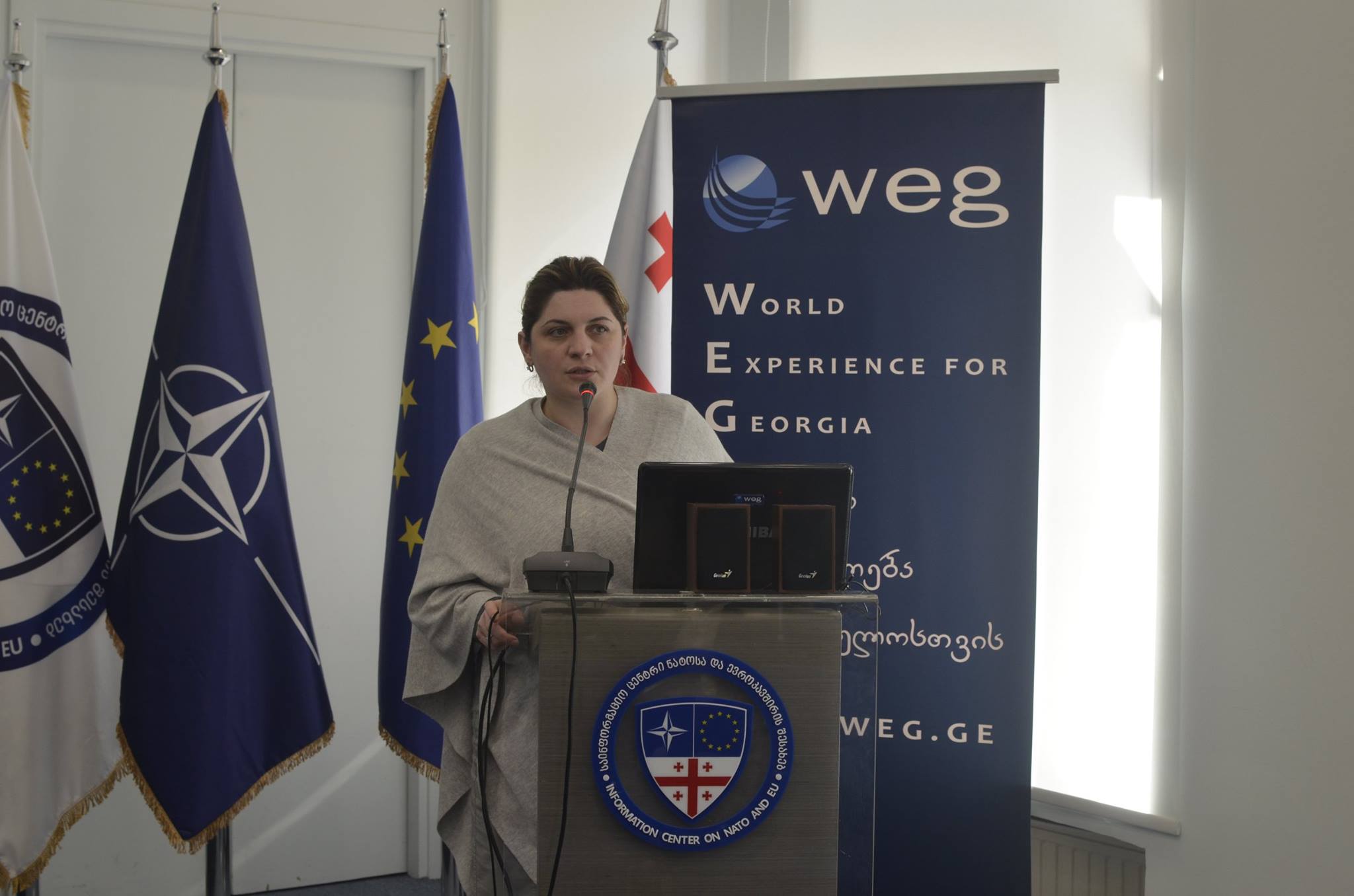 Mariam Valishvili, Deputy Minister of Energy, reviewed existing situation in the energy sector and highlighted some activities ministry is going to undertake in Georgia. She said that development of Primary legislation is in the final stage and new market operating will start from 2018. New market model will be beneficial for economy in the long run as it assures more liberalization and diversification in electricity and gas sector, but it might cause tariff increase in the short run.
Irina Milorava, Chair at Georgian National Energy and Water Supply Regulatory Commission (GNERC) discussed the role of GNERC in the reforms. She said that some activities regarding the unbundling can be started before the primary legislation is adopted and mentioned Energo-Pro Georgia example. She also underlined the necessity of GNERC capacity building which is also in line with Association agreement and Energy Community membership requirements.
Skype conference with the Anton Antonenco, vice president of Ukrainian think tank, DIXI group was also set up at the workshop. Mr. Antonenco described Ukrainian experience regarding the implementation of reforms under Energy Community Membership and devoted special attention to the important stimulating role of civil society in this process.
At the end of the workshop, WEG director, Murman Margvelashvili reviewed existing systemic challenges in the energy sector and discussed the role of different stakeholders, including CSOs. According to him, reforms need holistic approach and cooperation, capacity building and societal control is needed in order to overcome existing barriers. Mr. Margvelashvili offered some recommendations as well, including: speeding up the ratification process on Energy Community Protocol by Georgian parliament; create the coordination council (group) at the government level to increase cooperation and coordination of different stakeholders; undertake research and policy analysis activities and create strategic guidelines.
The workshop ended with the final remarks of World Bank, USAID G4G program, Energo-pro Georgia representatives who expressed their support to the reforms.
The workshop revealed need of more in depth analysis and discussions devoted to specific issues.
View photo album