Georgia and Energy Community – Report Presentation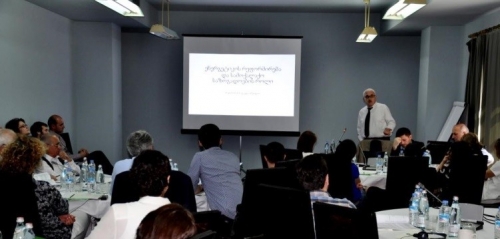 On May 29, 2015 presentation of new report on Georgia's accession to Energy Community (EC) prepared by Green Alternative and WEG was held in Rooms Hotel, Tbilisi, Georgia. Report prepared by financial support of Open Society Georgia and EU, describes the advantages of EC and benefits for Georgia. The study gives a detailed description of EC legal framework, enforcement mechanisms, experience of south-eastern Balkan states and Ukraine and also reviews problems and challenges in Georgian Energy and Environment sectors.
At the beginning of the event, Mrs. Manana Kochladze from Green Alternative reviewed the structure of EC and highlighted its positive and negative sides, later, Mr. Murman Margvelashvili described the current situation in the energy sector and emphasized the benefits Georgia will get from EC membership.
The last part of the event was detailed description of EC energy and environmental directives and analyzing of existing problems in Georgia in the context of directives implementation. Professor Teimuraqz Gochitashvili and researchers, Iago Chiabrishvili, NinoMaghradze, Irakli Macharashvili and Tutana Kvaratskhelia accordingly reviewed Gas and oil, transparency of electricity and gas prices, electricity markets, environmental and energy efficiency directives.
The presentation was attended by sector specialists, donors and media representatives.
Georgia and Energy Community report (avaliable in Georgian only)