Georgia is Becoming a Member of Energy Community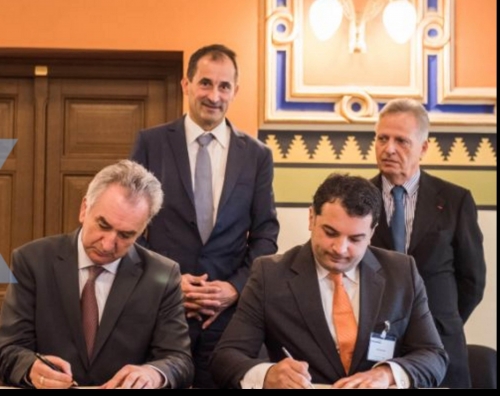 On October 14, 2016 Energy Community Ministerial Council unanimously approved the accession of Georgia to the European Energy Community (EnC). Minister of Energy of Georgia, Ilia Eloshvili and Minister of Foreign Trade and Economic Relations of Bosnia and Herzegovina Mirko Sarovic signed the Protocol of Accession and after several years' of negotiations, Georgia is becoming a member of the European Energy Community family.
Energy Community membership is an important step towards EU integration which is as important as signing the Association Agreement. With this step, despite the delay, Georgian energy sector shall start the modernization process. Signing the community membership should lead energy sector to increased effectiveness, better investment environment, higher level of transparency, technical and professional development and stronger international support.
We would like to give a credit to the Ministry of Energy for this progressive step. We hope, it will be followed by actual reforms and modernization process. We want to thank those 26 NGOs who supported us in the advocacy campaign, which significantly raised government's attention to the issue and determined the positive outcome. We hope their involvement will assure further irreversible reforms too.
The next steps to be taken in nearest future include: ratification of the Accession Protocol by Georgian Parliament and start of the practical implementation of reforms. We are looking forward to publication of the Protocol, which determines the terms and conditions for implementation of European directives and regulations in Georgia's legal system.
Accession to EnC indicates the maturity of political choice and can increase the political and can trigger the increased economic and political support from the EU, which is extremely important for Georgia in current dynamic and tense environment.
Useful links:
Energy CommunityAgreement - www.energy-community.org
Association Agreement between Georgia and EU - www.mfa.gov.ge
Agenda of Ministerial - www.energy-community.org