Strategic Energy Transit Projects and Georgia's Accession to Energy Community
On December 15, 2014 WEG and IESD hosted the next seminar from energy policy and sustainability seminar series. The seminar was devoted to strategic transit energy projects, Georgia's membership to Energy Community and the analysis of major development in Georgian energy sector in 2014.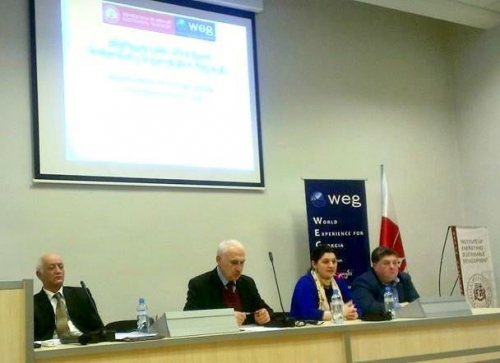 Expert Temur Gochitashvili in his presentation gave an overview of oil and gas transit infrastructure in Georgia and in Caucasus region, discussed the transit contracts, market developments and future strategic projects. According to him, the transit corridor through Georgia, is the most attractive route for delivering Caspian hydrocarbons to international markets.
Based on the review of existing infrastructure and the planned projects, it was concluded that Georgia has a significant transit potential to supply the international markets with the additional energy resources from Azerbaijan and Caspian region.
WEG director, Murman Margvelashvili spoke about Georgia's EC membership accession process and its importance for the country. He said that EC membership is the best way to fulfill obligations under the Association Agreement. It is an important opportunity to create a stable investment environment, implement the strategic energy transit projects, get technical assistance or other forms of mutual assistance from member countries and thus avoid additional threats and obstacles to the process of European integration.
The last part of the seminar was devoted to a panel discussion, where deputy Minister of Energy Mariam Valishvili and the experts – David Mirtskhulava, Temur Gochitashvili and Murman Margvelashvili reviewed the main developments of Georgian energy sector in 2014 and made their assessments on most important issues.
Ms. Valishvili said that negotiations on Georgia's EC membership will resume and the processes of developing energy policy and strategy will continue as well as village gasification and electrification projects. The panelists made their own assessments of the energy sector events in 2014.
Strategic Energy Transit Projects (Avaliable in Georgian only)